Vienna (Austria)
KUNST HAUS WIEN
KUNST HAUS WIEN was designed by Friedensreich Hundertwasser and today houses the museum of this visionary artist; its temporary exhibitions are dedicated to photography of the 20th and 21st centuries. The Museum Hundertwasser presents its visitors the largest collection worldwide of the exceptional Austrian artist and looks into his work in the context of art and art history. Based on Hundertwasser's forward-looking ideas regarding ecology and society KUNST HAUS WIEN, Vienna's first "green museum", provides a new space for artists and creative minds who deal with topics such as sustainability, climate change, recycling, urbanistics, or cross-generational responsibility in a critical and visionary way from a contemporary point of view. In the field of photography KUNST HAUS WIEN shows comprehensive exhibitions on renowned artists who have occupied an important place in the history of photography as well as topical international works, thus offering Austria's photography scene a central platform for dealing with this medium.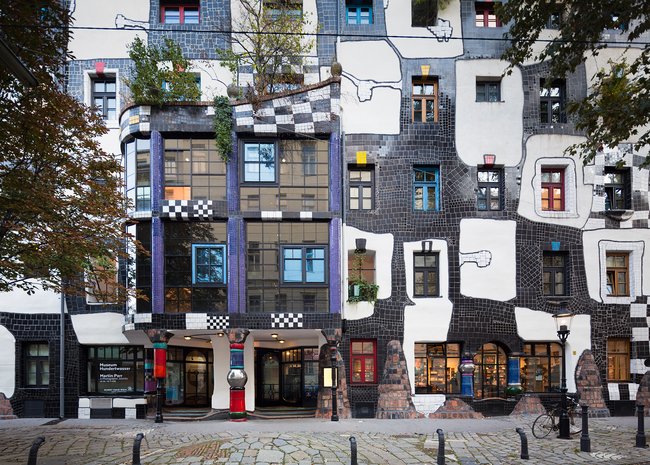 Access preferences
General Accesibility in the Museum (Accessible entrance for prams and wheelchairs)

Barrier-free access to the museum via the ground-level side entrance of KUNST HAUS WIEN (to the left of the main entrance). Please use the bell there and our team will be happy to help you afterwards.

Passenger lift stops on all floors and provides barrier-free access to the exhibitions.

Barrier-free accessible toilet facilities on the ground floor.

Stepless access to the shop and café on the ground floor.

Due to the specific architecture of KUNST HAUS WIEN the floors are uneven in places
Certified assistance dogs for the blind can be brought along. To ensure optimal care, please contact info@kunsthauswien.com in advance.

Accompanying persons of visitors with special needs are admitted free of charge.

Green Museum (Environmentally responsible)

Based on the forward-looking ideas of Friedensreich Hundertwasser on environmental and social policy, KUNST HAUS WIEN creates a unique place that combines art and ecology. Since 2014, when Bettina Leidl took over as director, the house, as Vienna's first Green Museum, has been presenting artists who critically and visionary deal with topics such as sustainability, climate change, recycling, urbanism or intergenerational responsibility from today's perspective.

A museum is also a producer of values, which as a public institution has to convey a socio-political stance. For this reason, KUNST HAUS WIEN attaches great importance to sustainable action, not only in terms of content, but also in operations and everyday work. Visible and invisible processes in museum operations are carried out in accordance with the highest possible ecological standards: 1) Resources are handled with care, 2) Repairs are the means of first choice, 3) When purchasing new products, attention is paid to long life, recycled raw materials, recyclability and environmental compatibility. In 2018, KUNST HAUS WIEN was the first museum to be awarded the Austrian Eco-Label. With its events and campaigns, the exhibition house aims to provide impetus for the entire cultural sector.