Vienna (Austria)
Dom Museum Wien
The museum is located in the heart of Vienna adjacent to St. Stephen's Cathedral and houses some of the most valuable sacred and historic artefacts in the world. The unique objects contained in this Cathedral treasury date back to the Middle Ages, to the period of Rudolf IV, Duke of Austria (1339–1365), the founder of St. Stephen's Cathedral, who established Vienna as the center of the Hapsburg Empire. The painting of his likeness, largely considered the oldest portrait of the western world, as well as his gold-threaded burial shroud rank among the highlights of the collection. Ranging from the Gothic period to Art Deco, sculptures, precious altars, sacred objects adorned with gold and jewels, portraits, liturgical manuscripts and books, as well as magnificent vestments round out the collection. Dom Museum Wien also houses the legendary Otto Mauer Collection, a large collection of modern and contemporary artworks: its holdings include works by Expressionists and Secessionists as well as by key figures of the Austrian and international avant-garde. The Collection is continuously expanded to include works by contemporary artists.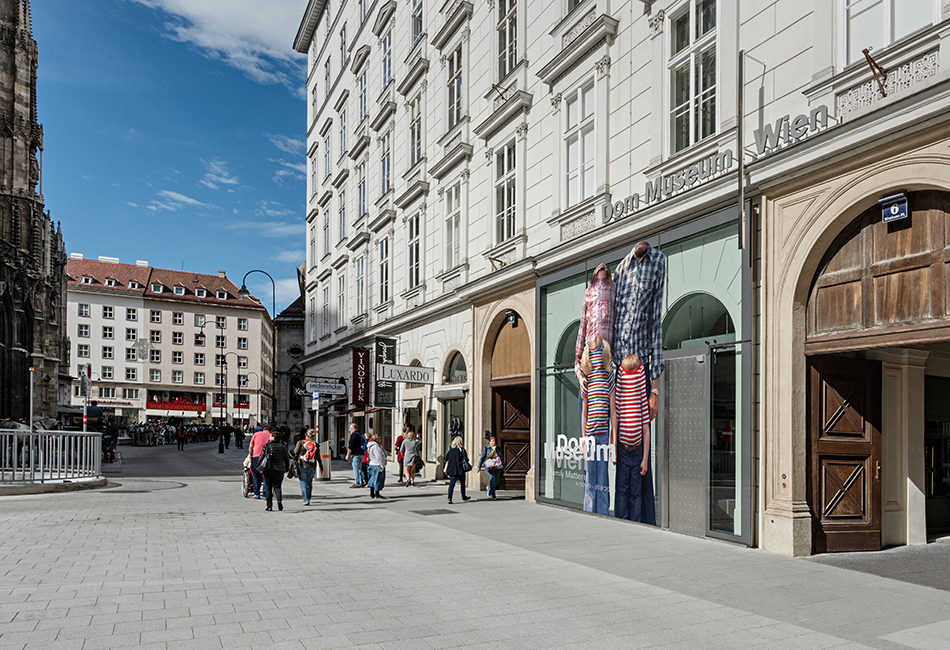 Access preferences
General Accessibility in the Museum (Accessibility)

The main entrance of Dom Museum Wien is accessible without steps (Door width: 154cm, power operated door).
Exhibition spaces on the upper floor can be accessed by elevator (Elevator door width: 102 cm).
The accessibility of all collection areas is guaranteed.
The restrooms are also barrier-free.
Guide dogs are permitted.
A wheelchair is available to be borrowed from the museum desk.

The Dom Museum Wien App (free download for Apple and Android, or available on rental devices at the museum admission desk) which features detailed descriptions of the permanent exhibition can be operated independently by blind and visually impaired persons using talk-back or voice-over mode. The language selection also includes Austrian Sign Language ÖGS.

The famous portrait of Rudolf IV. and a section of his precious burial shroud have been rendered as 3D tactile relief sculptures by the Zentrum für Virtual Reality und Visualisierung (VRVis) and are installed in the galleries just next to the original objects.

We offer Touch Tours for groups, in which the highlights of the collection, especially the treasures linked to Rudolf IV, can be touched, and other works of art are described in a way that creates strong images in the mind. (€ 10,- per person, assisting persons free. Duration 1,5 hrs. Further information: tours@dommuseum.at or 01 51552 5307)

Large print booklets featuring Simple Language are available throughout the galleries.

Inclusive art education programs geared towards people with different biographical backgrounds, combine art appreciation with creative activities in Dom Atelier. The workshop series "Close to the Center" was developed in collaboration with centers that care for people with dementia. It evokes memories, enables discovery in art and combines both with the here and now.