Süttgart (Germany)
Landesmuseum Württemberg
The Württemberg State Museum welcomes some 300,000 visitors annually. A good 150 years after its foundation, the museum looks after over a million objects and thus preserves essential facets of the region's cultural heritage from its early beginnings to the present. Collections of the highest quality in archaeology, art and cultural history as well as everyday and popular culture make it one of the most important institutions in the national and international museum landscape. The museum maintains interdisciplinary connections with institutions worldwide in the context of scientific research projects. It also has one of the largest workshops in the country for the conservation and restoration of valuable art and cultural objects. In 1862, King Wilhelm I of Württemberg established the "Royal State Collection of Patriotic Art and Ancient Monuments", predecessor institution of today's Württemberg State Museum. The aim formulated in the founding proposal of 16 June 1862 was to create a collection that would "consist of industrial and artistic objects and extend to all periods of homeland history and all stages of cultural and historical development". This type of central collection on the history of Württemberg in the capital Stuttgart was considered necessary so that the "objects would thus be more easily accessible to the general public". The new collection was to be "as open as possible (...) for public viewing" in order to "promote knowledge of the history, especially the cultural history, of our fatherland". It would not only be of interest to local residents, but would also "provide an object of attraction for foreigners visiting Stuttgart".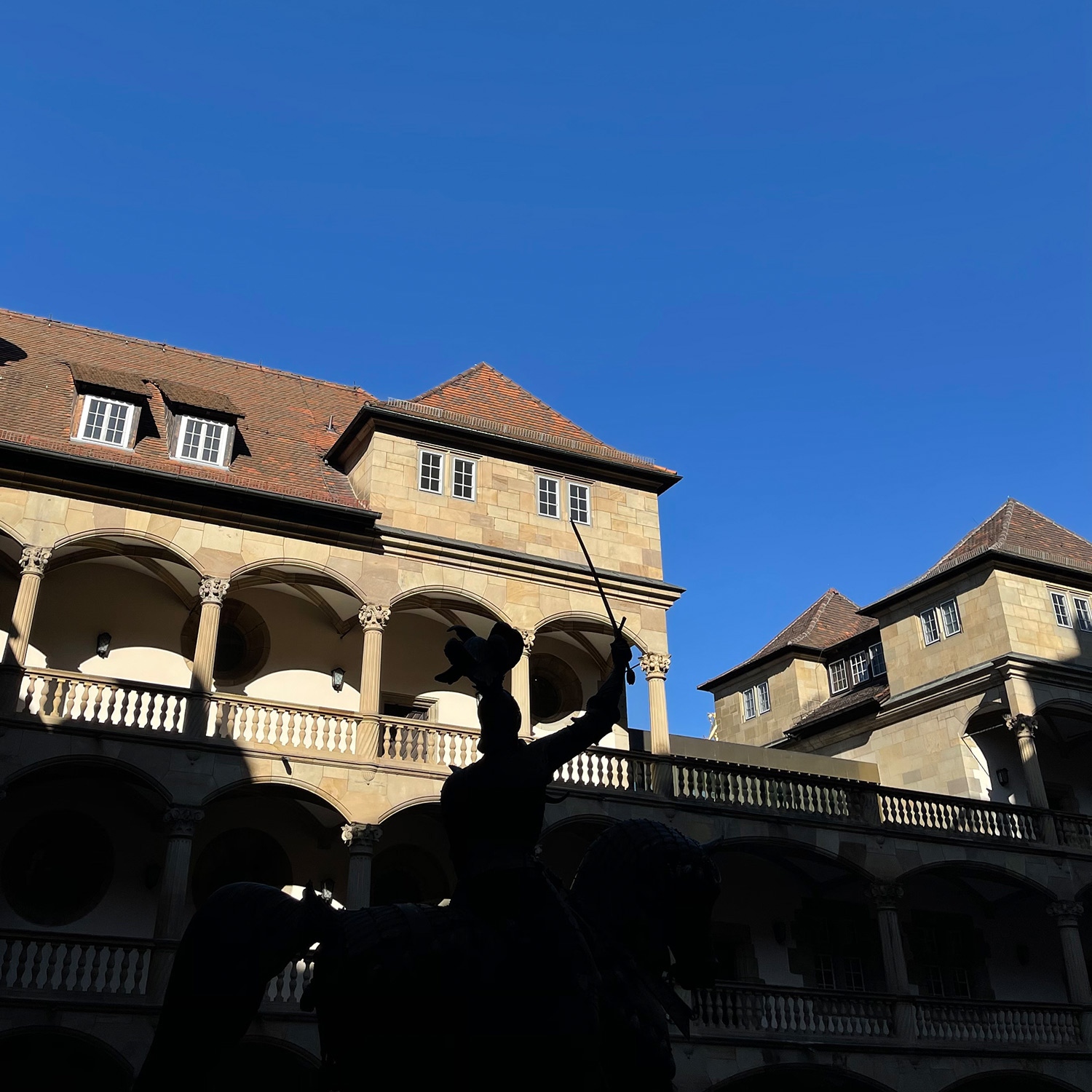 Access preferences
Guided tours for people with visual impairments are possible through different departments of the state museum. During these tours, for example, object replicas and other materials are used for palpation and better perception. Please contact our visitor service on the info telephone (see below).
Barrier-freeDirections

The visually impaired are allowed to bring their assistance dogs into the museum. Otherwise, dogs are not allowed in the museum.

Tactile information boards, guidance, and control elements are intended to help blind people to visit the State Museum. In the old castle and in the fruit box, the elevators are equipped with tactile controls.

You can reach the Old Palace in just a few steps by bus or tram from the Charlottenplatz or Schlossplatz stops. Both stops are equipped with elevators and ramps.

Hearing aids can be connected to the intercom used during the tours. Both wearers of in-the-ear and behind-the-ear hearing aids and people with implants follow the guide even without eye contact.

Most audiovisual media are subtitled.

Barrier-free museum

The Landesmuseum Württemberg strives for barrier-free access in as many areas as possible. That is why our exhibitions and offers are generally open to everyone: people with disabilities, people in wheelchairs, people with visual impairments, blind people, people with hearing impairments, deaf people, people with dementia, special needs classes, and groups with learning difficulties.

Barrier-free toilets and baby changing rooms, seating in the exhibitions, films with subtitles, various media guides, elevators with signs in tactile writing, and announcements are available in the museum.

Due to the structural features of the listed Old Castle, there are still corners that are difficult or even almost impossible to reach with a wheelchair, for example. The visitor service will be happy to assist you with orientation in the buildings and with accessibility at any time.

A large part of our exhibition architecture is wheelchair accessible. All exhibition rooms accessible for wheelchair users have parquet floors, stone slabs, or carpeting that is easy to drive on. Please note that due to the historical building structure, the radius of movement is sometimes less than 1.50 m.

We try to make the presentation of our exhibition objects accessible through all-view glass showcases with low plinths and exhibition texts at a height that is legible for wheelchair users.

Please note: Simple wheelchairs can be borrowed free of charge at the gate if required.

In addition to architectural accessibility, we have developed attractive offers that enable people with and without restrictions to participate in our exhibitions. We have been offering free and specially designed tours for people with disabilities for many years. They are free of charge and are addressed in detail to:

Blind and visually impaired visitors
Deaf visitors
Hearing aid wearers and the hearing impaired
Special schools
learning weak groups
and people with dementia.

Our contact persons on the info line will be happy to advise you on the barrier-free offers in the show collections, special exhibitions and in the Junge Schloss: 0711 89 535 111.

Special tours for people with dementia
A tour gives people with dementia the opportunity to refresh their creative resources and inspire their emotional experience despite the gradual loss of intellectual abilities. After a short meeting over coffee and pastries in a quiet place with a nicely laid table, individual works are discussed. The observation of the object should give impulses for discussion and exchange.

Guided tours with hearing aids
People who are hard of hearing can connect to the receiver of the tour system using their hearing aids using neck loops (output at the audio output point) or directly with the earphones. Both wearers of in-the-ear and behind-the-ear hearing aids and people with implants follow the guide even without eye contact. Via the T-coil integrated in the hearing aid, the voice is received from a short distance without reverberation and ambient noise, thus significantly improving speech intelligibility. Ask the hearing aid manufacturer whether your hearing aid has a T-coil or whether it still needs to be activated.