Paris (France)
Musée d'Orsay
The Musée d'Orsay is a museum in Paris, France, on the Left Bank of the Seine. It is housed in the former Gare d'Orsay, a Beaux-Arts railway station built between 1898 and 1900. The museum holds mainly French art dating from 1848 to 1914, including paintings, sculptures, furniture, and photography. It houses the largest collection of Impressionist and post-Impressionist masterpieces in the world, by painters including Berthe Morisot, Monet, Manet, Degas, Renoir, Cézanne, Seurat, Sisley, Gauguin, and Van Gogh. Many of these works were held at the Galerie nationale du Jeu de Paume prior to the museum's opening in 1986. It is one of the largest art museums in Europe.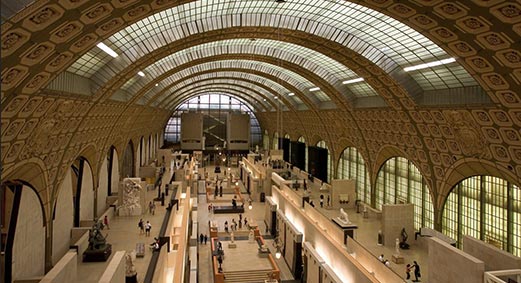 Access preferences
Accessible Museum (Accessible entrance for prams and wheelchairs)

General Accesibility in the Museum (Accessibility)

Borrow a wheelchair

Wheelchairs are available at the coat check in exchange for ID, as well as folding seats for people with difficulty standing.
Borrow a stroller

Overly bulky strollers and baby carriers are not allowed, but strollers and baby carriers are available in the coat check in exchange for ID.
elevators

Thanks to elevators and ramps, the entire museum circuit, temporary exhibitions and commercial areas are accessible to people with reduced mobility and strollers.
Restrooms

The museum is equipped with numerous sanitary facilities, some of which are adapted for disabled people.
Baby changing area

The museum provides a baby changing area located on level -1, on the adult group reception side.

Programmes for Visitors with Disabilities (Complementary Offer)

Aware of the specific needs of its visitors, the Musée d'Orsay offers a range of mediation adapted to groups of people with disabilities or from the health sector.

Reservation is compulsory for all groups (from 7 people).