Paris (France)
Louvre
The Louvre, or the Louvre Museum, is the world's largest art museum and a historic monument in Paris, France, and is best known for being the home of the Mona Lisa. A central landmark of the city, it is located on the Right Bank of the Seine in the city's 1st arrondissement. In recent years, the Louvre has made a great effort to become a "A museum accessible to all".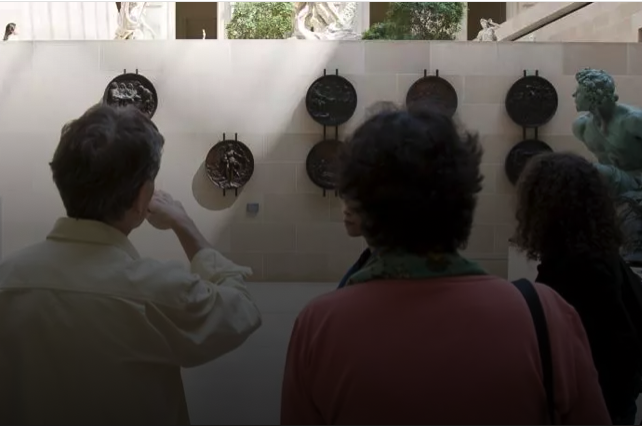 Access preferences
Available in 9 languages: English, French, Spanish, Italian, Portuguese, German, Japanese, Korean and Chinese. The audio guide also uses geo-location to allow you to check which level you are on and which part of the museum you are in.

The 'Louvre_Wifi_Gratuit' network is available under the Pyramid and in the exhibition rooms. The free Wi-Fi connection last one hour and can be renewed as many times as needed.


FREE PHONE CHARGING SERVICE: Phone charging lockers are available under the Pyramid.

Children are entitled to free admission. The museum organises a range of activities around the year for children to learn all about the Louvre:  workshops, guided tours, storytelling sessions and free activities in the Studio to name but a few! Only baby carriers worn on the front of the body, not on the back, are allowed. Front baby carriers are also available on loan under the Pyramid.

The museum offers a range of activities and tools for visiting the museum with groups of school children, disabled visitors and more: how to organise your visit, training, Louvre Pro membership, etc.

You can take photos and videos in the permanent collections if they are for personal use. However, you are not allowed to use selfie sticks, flash or lighting. In some temporary exhibitions, you might not be allowed to take photos or videos of certain artworks.

The Petite Galerie is a dedicated space for disabled visitors. Entirely accessible, it is equipped with tactile ground surface indicators. A braille booklet is lent free of charge and a downloadable guided tour with audio descriptions is available on the Petite Galerie app. Tactile devices are also available in the Department of Islamic Art collections.

For information about services for visitors with special needs, enquire at the Help Desk beneath the Pyramid.
Folding chairs and SensoryBags (kits containing material for people with sensory impairments: noise-cancelling headphones, eye bands, etc.) are available free of charge. Material is available in exchange for a piece of ID. Lent material must not leave the Louvre.

Walking sticks, folding stools, strollers, baby carriers, and wheelchairs are available free of charge from the visitor assistance area (located beneath the Pyramid), in exchange for a piece of ID.

All equipment is disinfected between each use.