London (United Kingdom)
Wellcome Collection
Wellcome Collection is a free museum and library that aims to challenge how we all think and feel about health. Through exhibitions, collections, live programming, digital, broadcast and publishing, we create opportunities for people to think deeply about the connections between science, medicine, life and art. We are part of Wellcome, which supports science to solve the urgent health challenges facing everyone.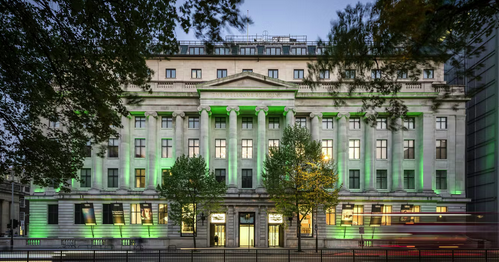 Access preferences
You'll find accessibility services and facilities available for the majority of our events and exhibitions. We reserve a limited number of tickets for each event for visitors with access requirements, and many of our events are relaxed.
We also offer free access tours for exhibitions and for our building.

We offer free audio-described tours of our exhibitions.
You can download or stream audio descriptions of every exhibit in 'Being Human' or take a highlights tour with 11 stops and optional directions in between.

We offer free speech-to-text tours and British Sign Language (BSL)-led and BSL-interpreted tours of our exhibitions.

We want everyone to feel included in all that Wellcome Collection has to offer. Find out how we make our building, services and programme as accessible and inclusive as possible.
Our ongoing commitment is to make our building, services and programme as accessible and inclusive as possible, removing and reducing barriers to visiting us.

There are fixed induction loops at:
the Information Point on level 0
Wellcome Café and Shop on level 0
the library Enquiry Desk on level 2
the Reading Room
the venue hire reception on level -1 and many of the rooms available for hire, including the Williams Lounge, Frank and Steel Rooms, Dale Room, Burroughs Room and the private dining room
the Henry Wellcome Auditorium and the Forum.

We also have portable induction loops. Contact the Access team to reserve a portable loop for your visit.

Some areas can be busy and loud, especially the Atrium at the entrance. Other areas upstairs are often much quieter. Ask staff if you need help finding a calmer space.

Sometimes visitors need to queue while waiting for an event. If queuing is not accessible for you, please speak to a member of staff and we can make alternative arrangements with you.
Assistive equipment

Our staff are aware of the diversity of visitors' access requirements and are here to support you. Get in touch if you have any specific queries about accessibility. And after your visit, please share feedback about your experience with the Access team so that we can continue to improve our accessibility services and facilities.
Contact the Access team
Phone +44 (0)20 7611 2222
access@wellcomecollection.org

Large print and magnifiers: We have large-print labels and guides for our exhibitions, and you can borrow a magnifying glass or magnifying sheet.
Braille: There are Braille labels for and tactile reproductions of objects in the 'Medicine Man' gallery. You will find these in special drawers set at standing height into the gallery walls.

We have a wheelchair-accessible building. If your wheelchair or mobility device is 75 cm or wider, access to certain areas of the building may be limited. Please contact us if you have a larger device and we can help you plan your visit. You can also borrow a wheelchair from us during your visit – just ask at the Information Point on level 0. Or contact us in advance if you would like to reserve a wheelchair.