Berlin (Germany)
Berlinische Galerie
The Berlinische Galerie is one of a kind: we collect, preserve, display and investigate modern and contemporary art made in Berlin. Ours is an interdisciplinary collection that includes painting and sculpture, prints and drawings, photography and architecture, all dating from 1870 until the present day. This makes our museum fundamentally different from other exhibition venues in the German capital. Our job is to focus and stimulate. We seek to portray Berlin's art history in new and surprising ways with room for every genre and style. This sometimes reveals unexpected threads in the fabric, and international networking by the art community is part of that weave. Berlin is a city of artists, and here you can sense it. We show the classics, but we also respond quickly to the latest trends in contemporary art. Our programme is undogmatic, thought-provoking and sometimes controversial – but then so is Berlin.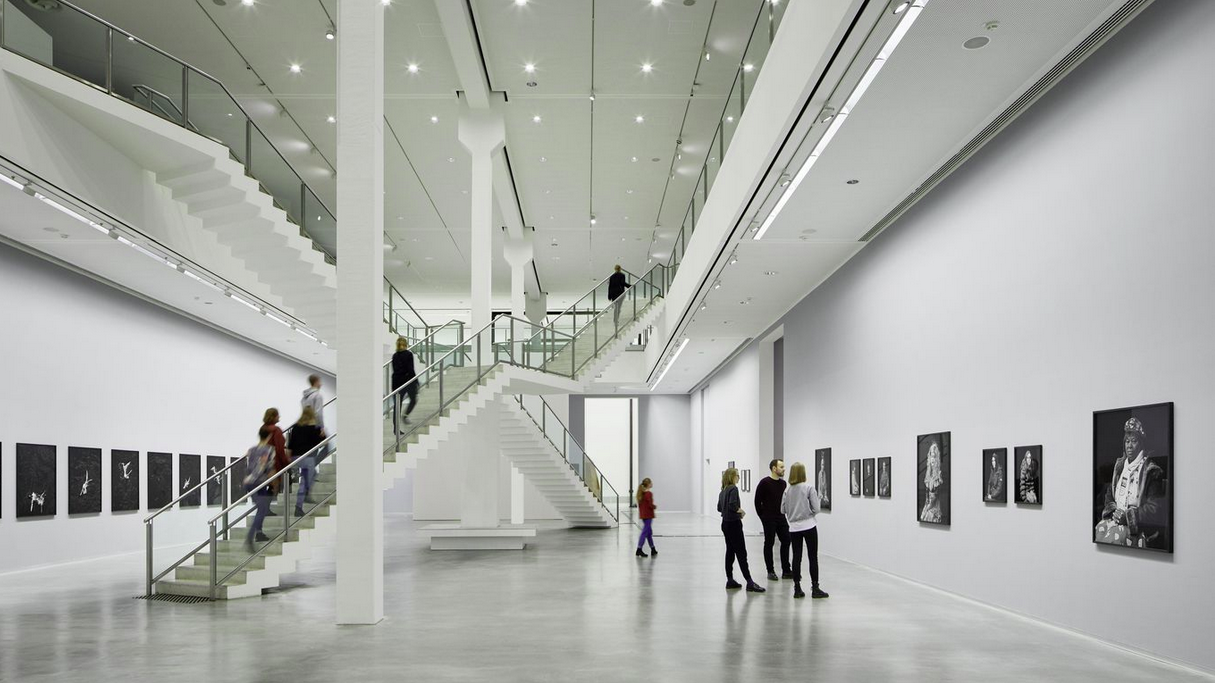 Access preferences
Accessible Museum (Complementary Offer)

The Berlinische Galerie takes the right to equal participation in cultural life seriously and is actively promoting the process towards becoming an accessible, inclusive museum.

Mobility

The Berlinische Galerie is accessible to visitors with impaired mobility. The museum building itself, all the exhibition and event spaces, and Café Dix can be accessed without barriers in a wheelchair. The entrance to the museum is on ground level. You will find a power-assisted door in the glass façade about 5 meters to the right of the main door. The temporary exhibitions are displayed on the ground floor. The exhibition rooms on the upper floor can be reached by a lift that also accommodates wheelchairs. There is a disabled-access toilet by the cloakroom in the museum foyer. This door is opened by pressing a button.

Mobile seating and two folding wheelchairs can be borrowed free of charge from the cloakroom.
Photo: Artwork on the wall, in front of it are two people touching the corresponding tactile model.

Visitors with impaired vision

A tactile floor guidance system provides orientation for visitors of little or no sight. It consists of double-strip line markings with attention fields for museum features such as the ticket counter, cloakroom, lift, toilets and permanent exhibition space on the upper floor. A tactile plan and can be borrowed at the ticket counter. We also offer an inclusive audioguide which includes audio contributions, exhibition texts and reproductions of 17 highlights from the collection. The guide is available as an app and can be downloaded free of charge from the App Store for Apple iOS or the Google Play Store for Android. The app automatically triggers audio pointers that help the blind and visually impaired to move around the exhibition independently. There is also a Web version of the app that you can open in your browser.

Seven major works in the current selection from the permanent collection can be explored by touch. Touch models made of different materials like felt, textiles and wood convey a three-dimensional, material impression of the original.

Guided touch tours to both the permanent and temporary exhibitions take place regularly.

Guide dogs for the blind are allowed in the museum.

Offers in German Sign Language

There are regular art talks and guided tours taking place in German Sign Language (DGS). Speeches at exhibition openings are also translated into DGS.

Accessible education programme (Complementary Offer)

We run regular tours of our exhibitions for people with disabilities. The programme includes touch tours, tours with or in German Sign Language and tours for people with learning difficulties. Some of our events are inclusively designed and are explicitly aimed at people with and without disabilities.

General Accessibility in the Museum (Accessibility)

The Berlinische Galerie aims to be a museum for all its visitors. Everyone has their own personal interests and needs, and everyone has a right to see our exhibitions without hassle and, as far as possible, without having to rely on other people.

The Berlinische Galerie has made a lot of progress on its way to becoming an inclusive, barrier-free museum: At every exhibition opening, we provide German Sign Language interpretation for the speeches. In our permanent collection there is a tactile floor guidance system for the visually impaired. Our tactile models and our app tour with detailed descriptions of the highlights are also used by many sighted visitors, who appreciate this alternative route to art. At joint workshops and on joint tours we get people with and without disabilities talking – and not only about art.

Please note: We have removed the tactile models for now to meet the current hygiene requirements. Furthermore we are currently not lending out audio guide devices. You can take the audio tour through our permanent exhibition by downloading our app onto your smartphone or tablet. Thank you for your understanding!