Amsterdam (The Netherlands)
Van Gogh Museum
The Van Gogh Museum inspires a diverse audience with the life and work of Vincent van Gogh and his time. It is authentic, in connection and original. These core values function as an ethical compass for the museum and staff. Together, the core values are the yardstick by which the museum will measure all its activities – existing and new. The core values keep each other in balance and strengthen each other where necessary. The Van Gogh Museum aims to take a leading position in its core competencies: research, exhibitions, educational programmes, publications, social media, access to the collection, development, but also in the areas of sustainability, how it functions as an employer, safety, management of visitors through its buildings, commercial activities and much more. The museum wants to develop its leading position further in the coming years. It wants to set an example for the museum sector at home and abroad, without losing sight of its core values and mission. In 2023, the Van Gogh Museum will celebrate its fiftieth jubilee. This extraordinary moment will be marked by extensive, distinguished celebrations, fully in line with the museum's mission and core values.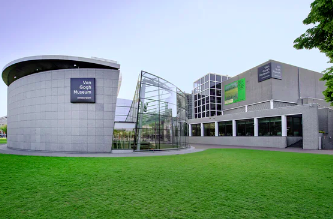 Access preferences
The Van Gogh Museum offers guided tours in (international) sign language. Reserve a private guided tour for a group of up to 12 visitors at your chosen time.

The Van Gogh Museum is dedicated to ensuring accessibility for all of its visitors. Disabled visitors are offered priority entrance and have access to a range of facilities available at the museum.

Do you suffer from sensory sensitivity?
A room is available in case you need a moment of rest

Not all disabilities are visible; autism, Alzheimer's, dementia or PTSD, for example. Wearing the Hidden Disabilities Sunflower Lanyard indicates to our museum staff that you may need additional support during your visit. Lanyards are available in the Hidden Disabilities Store.

Feeling Van Gogh is an interactive programme designed especially for blind and partially-sighted visitors and their seeing friends, family members and companions. Feeling Van Gogh has a permanent place in the museum, with a 3D reproduction of the painting Sunflowers. Feel Van Gogh's brushstrokes and smell the sunflowers.

Wheelchairs, wheeled walkers and mobility scooters weighing up to 500kg are permitted in the museum. Alinkers are not permitted in the exhibition spaces due to safety considerations.